AI technologies: your optimal gateway to increase profits and boost your business growth
The old legend states that one touch on the magic lamp is enough to summon a "genie" who can instantly grant all your wishes. And technology states that "Open Sesame" is no longer limited to the genie and its legend. All you have to do is call "Siri", "Alexa", "Cortana", or any other AI-powered virtual assistant program to fulfill all your requests.

Artificial intelligence (AI) is no longer restricted to basic functions such as ordering music, calling a doctor, or managing daily tasks. It has now evolved into a vast investment market and a critical battleground for competition among the world's leading economies and corporations. A report by PwC, which analyzed more than 20 economic sectors across 15 countries, found that spending on AI by companies, governments, and institutions is projected to reach $15.7 trillion by 2030.
The business sector has become the largest investor in artificial intelligence due to the significant financial gains that have been achieved by integrating AI into operational systems. This integration has helped companies to boost sales, improve the user experience, enhance marketing strategies, and increase overall business efficiency.
The report expects that the value of investments in the business sector will reach approximately $6.6 trillion by 2030. According to a report by Accenture, the integration of artificial intelligence can result in an increase in a company's annual profits ranging from 38% to 60%. 
No data, no AI - the foundation of AI technology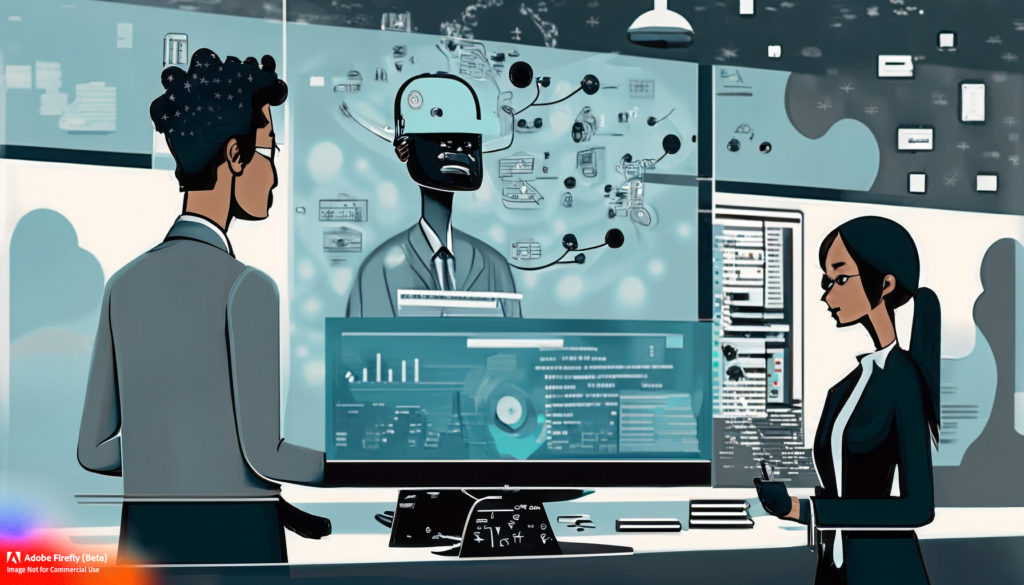 Artificial intelligence (AI) is a game-changer in the modern business landscape, offering companies a powerful tool to utilize big data and extract valuable insights to make informed decisions. By incorporating AI into their operations, businesses can enhance productivity, efficiency, and customer satisfaction by gaining a deeper understanding of customers' needs.
AI can also analyze vast amounts of data related to competitors, customers, and products, and provide innovative solutions to drive business growth. Additionally, AI can strengthen cybersecurity, reduce business risks, analyze financial data, and improve financial planning to unlock new business opportunities. 
Here are some of the significant contributions of AI in boosting business growth:
1- Data analysis and predictive analytics
Data analysis is an indispensable tool that enables companies to comprehend the data they gather and convert it into actionable decisions. By leveraging AI, businesses can expedite the analysis process and enhance its precision. AI can be harnessed in the business sector to analyze vast amounts of data, recognize trends and patterns, forecast future outcomes, and expedite data-driven decision-making. A prime example of a company that has made extensive use of AI in its operations is the e-commerce giant, Amazon. Amazon has developed its proprietary AI model to analyze data, predict customer behavior, and optimize the online shopping experience.
2- Optimizing internal operations
AI represents a valuable asset in enhancing internal processes for businesses, as it can be utilized to scrutinize production records and pinpoint processes that are prone to errors, thereby enhancing those processes, reducing mistakes, and upgrading product quality. A study conducted by McKinsey across various industries revealed that AI has the potential to boost productivity by 10-40%, reduce costs by 20-50%, and enhance product quality by 20-50%. Tesla is an example of a company that uses AI technologies to improve production lines, minimize human errors, optimize quality control, and improve the regular maintenance and operational system. This helps Tesla to identify potential issues and minimize technical downtime for their vehicles.
3- Improving the customer experience
AI can be utilized to scrutinize customer behavior and preferences, forecast their future requirements, and offer products and services that cater to their needs. AI also aids in analyzing issues and providing swift and precise solutions, as well as delivering accurate and prompt responses to queries and complaints. For instance, AI can evaluate communication records between customers and customer service teams, recognize frequently asked questions, enhance the quality of responses, and reduce waiting time, which in turn, improves technical support services and minimizes the number of customer complaints and problems.
4- Saving time and effort
The employment of AI in businesses can bring about great transformation and minimize time, effort, and costs. By utilizing AI, companies can promptly and precisely analyze data and information, sparing resources and time that were formerly spent on manual research and analysis. Furthermore, AI can strengthen sales and marketing strategies by providing tailored offers and advertisements, thereby decreasing marketing expenditures. In addition, AI can decrease operational expenses such as those associated with recruitment and training. In general, AI can assist businesses in operating more efficiently and effectively, resulting in amplified profits and expansion.
Here are the top 5 AI tools and applications that can be employed in the business sector: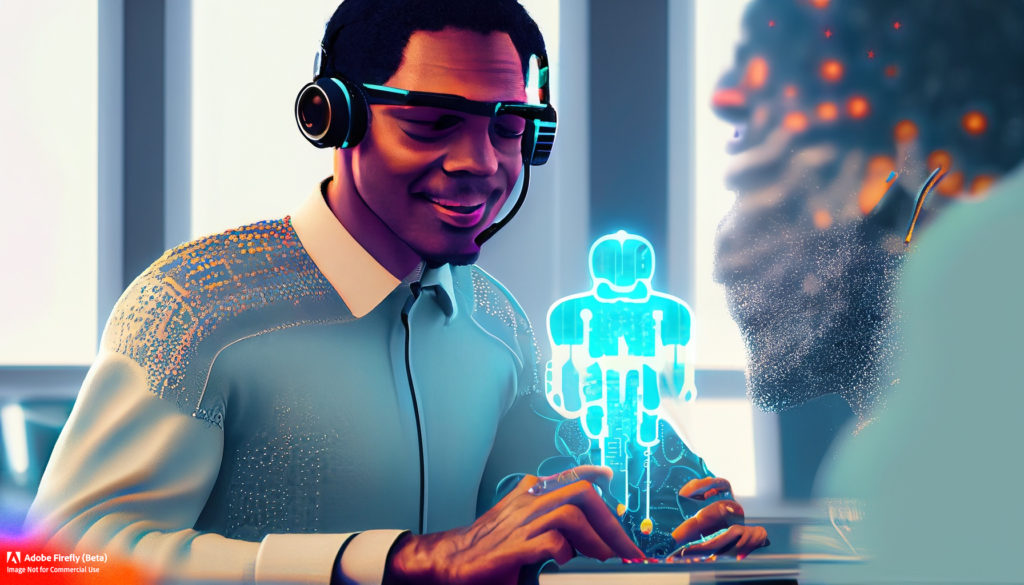 1- ChatGPT: – an innovative AI-based tool that leverages ChatGPT technology to enhance user experience and provide self-service technical support. By answering frequently asked questions and efficiently resolving customer issues, ChatGPT can help companies save time and resources. Additionally, it can assist in creating marketing content and writing reports for the organization across various platforms.
2- Youchoose and Recolize: – two of the most popular recommendation engines that use AI to analyze user activity logs, such as purchase history, clicked offers, and searches. Based on this data, the engines can recommend products or items that the user might prefer, thereby increasing the likelihood of purchase or use
3- Einstein GPT: – an AI-based tool utilized in CRM to improve customer satisfaction. It streamlines processes, assists sales teams in identifying potential customers, and devises marketing tactics based on customer experience. It also establishes unconventional communication channels with customers to deliver optimal service.
4- Tessian: –  an AI-powered cybersecurity tool that develops automated security measures. It identifies potential threats and predicts new attacks that the company's systems may encounter. It monitors emails and prevents phishing attacks, fraudulent emails, data breaches, and other cyber risks and threats.
5- Smartly.io and Emplifi.io: – a significant AI tool utilized for planning marketing campaigns, generating advertising content, and managing social media pages. Lately, there has been a significant increase in the amount of investment that companies are making toward AI tools that are specifically tailored for the purpose of creating, designing, and handling marketing and advertising campaigns. Harvard Business Review reports that CenturyLink has received a return of $20 for every dollar invested in developing the AI tool "Angie," thanks to its remarkable success in promoting the company.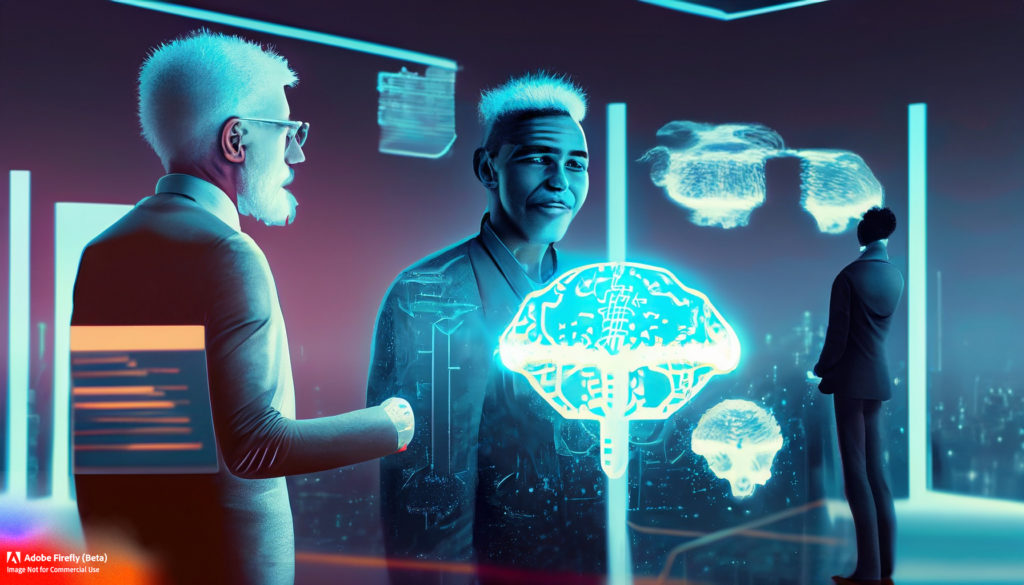 Overall, just like a genie let out of the bottle, the emergence of artificial intelligence has pushed the business sector to unprecedented levels of progress and growth. This technology has been fed with vast amounts of data, leading major economic entities to invest billions and trillions of dollars in AI research and development. These entities are competing to create more advanced AI models that not only enhance sales and profits but also reshape global trade and offer unmatched business prospects. It is, therefore, unsurprising that a prominent Hollywood moviestar like Tom Hanks believes that AI will have him acting after death in new movies.